Micheál O'Domhnaill & Paddy Glackin
As MBE no longer works with these artiststhis pages are not kept up-to-date. Even though e have left these pages in place it is not possible to contact these artists through this site.
Since 1997 Paddy Glackin and Micheál O'Domhnaill have teamed up to perform at concerts and festivals throughout Europe. In the year 2000 they released their first album together 'Athchuairt - Repise' which is available from
Irishmusicmail.com
.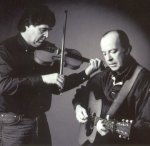 Micheál O'Domhnaill's first group was 'Skara Brae', a singing group with his sisters Tríona and Maighread and Derryman Dáithí Sproule. Then followed a stint with Mick Hanly in a duo 'Monroe'. In 1975 he was a founder member of one of the most influential Irish traditional bands 'The Bothy Band'. In the four years the band was together they toured extensively and recorded several highly acclaimed albums and although the Bothy band broke up in 1979 their legacy still lives on in the young traditional bands coming out of Ireland today. After the demise of The Bothy Band Micheál moved to America where he played with many musicians including fiddle player Kevin Burke, also of the Bothy Band. Later with his sister Tríona and flute player Brian Dunning he formed 'Nightnoise' which gained widespread recognition and acclaim throughout The United States and Europe.
Paddy Glackin, though born in Dublin is connected to the Donegal fiddle style through his father Tom. He has long been regarded as one of Ireland's leading fiddle player's. Like Micheál he was a founder member of The Bothy Band but left to pursue his solo career before the band's first recording Paddy has performed and recorded with such well known artists as Van Morrison, Kate Bush, avant garde composer John Cage as well as many of Ireland's top traditional musicians.
"Due to the increasing popularity of Irish music in Israel, the Tel Aviv municipality, along with several commercial sponsors, organised a four day "Irish fest" last week. Surprisingly, the majority of the music was provided by local groups who play in the Irish tradition, but of course there were also a few "real" Irish musicians flown in for the event. I was fortunate enough to see Paddy Glackin and Micheal O'Domhnaill on the closing Saturday evening; they arrived on Friday morning and flew back to Dublin early Sunday morning: no life for a working musician.
Paddy (violin) and Micheal (acoustic guitar) played together in the legendary Bothy Band during the mid-'70s. Micheal then went to America and formed the group Nightnoise with the flautist Billy Oskay (his sister Triona later joined as well). Two years ago Micheal returned to Ireland, and since then, has resumed his partnership with Paddy. They have a new record lined up for release in the next few months.
Their repertoire consists mainly of traditional Irish melodies, such as "The Broken Pledge," "The Mist Covered Mountain" (a different version to the two that I have heard recently), "Old Hag, You Have Killed Me" and two versions of "Jenny Chickens." But as Paddy pointed out, the names aren't indicative of anything, and there are (in his words) on average 2.7 titles per tune.
Most of the tunes were in common time, but providing a pleasing contrast were a few slip jigs. Also providing contrast were three songs, which were played and sung solo by Micheal: "It's A Pity I'm Not In Ireland" (sung in Gaelic), "The Banks Of Loch Lomond," and "Fionnghuala" (mouth music), the last receiving tumultuous applause from the audience. The duo don't seem to have a fixed set list, as during the concert I could see them conferring on which tune to play next.
For the enthusiasts, Micheal plays in open D tuning, occasionally with a capo; on his solo songs he played with a delicate fingerpicking style reminiscent of his work with Nightnoise, whereas in the duets he played with a strongly rhythmic, but also melodic, style.
I was slightly disappointed that they played for only 80 minutes, but in that time they managed to play a large amount of material, and had the 400-seater Cinematech audience eating out of the palm of their hands. I am sure that the audience would have been only too pleased to have stayed for more music, but there was another concert scheduled for the hall, and anyway, Paddy and Micheal had to sleep a little before the return journey to Ireland.
If the organisers were testing the water, I'm sure that they received an enthusiastic reaction, and so I can safely say that there will be much more Irish music in Tel Aviv in the coming months."
[No'am Newman - The Greenmanreview.com]